3D vision sensor and robot are completely controlled in one platform
so that anyone can easily and quickly apply process setting regardless of technical proficiency
and use it integrally with external devices through communication support.
Able to check robot path in different angles and check for robot path control and system operation on the platform in advance.
It can be reconfigured with simple code block and algorithm module without having to change code on the platform and quickly make application accessible to users.
Different kinds of interface
It supports different kinds of communication with external devices such as PLC and robots for integrated use.
This accurately recognizes atypical objects so that they can be quickly
and accurately moved to desired position to increase the production rate and reducing costs.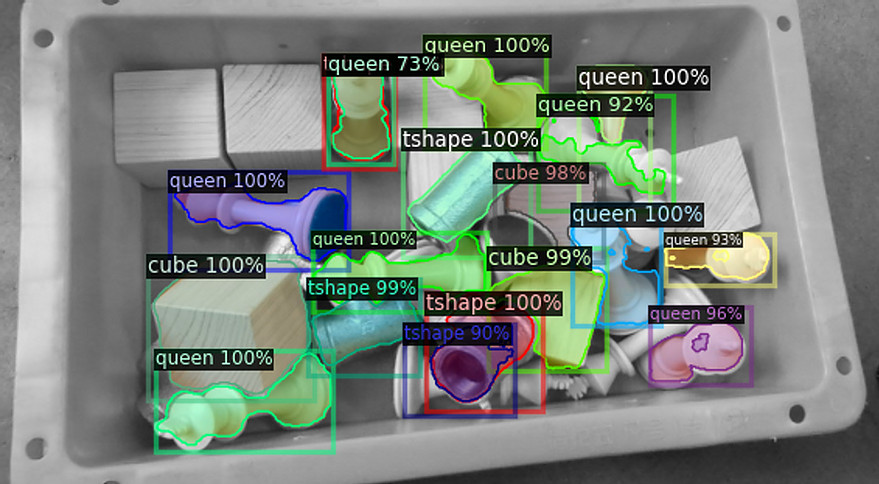 All processing, such as object recognition and robot path generation, is performed based on 3D data.
Inhouse high-speed algorithms and high-speed GPU processing are applied to process more extensive 3D data.
AI-assisted object recognition
AI-assisted object recognition technology is used to recognize various objects that are difficult to process with existing rule-based algorithms, and to control and determine robot poses.
System stability and speed can be dramatically improved.
2D/3D hybrid shape-matching
It can be successfully applied to various applications by applying AI recognition and 2D/3D hybrid shape-matching using CAD data and 2D/3D images.
The system finds errors derived from different variables other than the default value provided
from the robot manufacturing company and finds the optimal model value for achieving accurate robot motion.
Generation of accurate 3D cloud point.
Able to achieve accurate robot motion.
Vision to robot
calibration
Connects position information between vision and robot in different situations.
This provides user-friendly automated teaching solutions
uses drag & click in the simulator to easily generate the robot work path.
Uses drag & click in the CMES simulator to anticipating robot motion and generate the robot path.
Collision avoidance
& Path efficiency optimization
Automatic generation of an intermediate path considering collision avoidance, robot work space and moving time.
Joint limit
& Singularity problem solving
& Redundancy control
Optimal robot motion considering restrictions in the robot. (motion optimization)
This improves the level of completion in the system with 3D simulation without having to establish actual device and production facilities and achieves accurate robot control in the environment where variation is always occurring.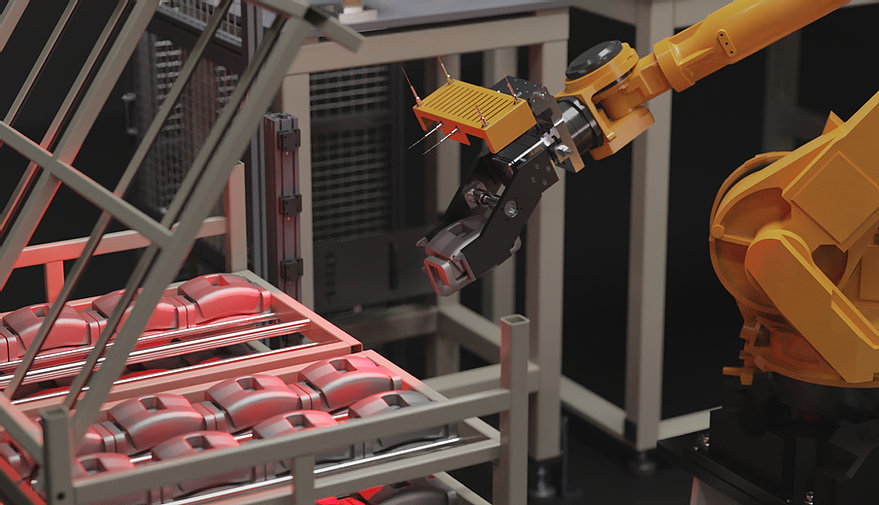 Able to select the optimal path by reviewing the path with animation in 3D space.
HW design optimized for different kinds of 3D scanning products.
Achieve accurate robot motion by adapting to constant changes in the environment such as detecting sudden collision while the robot is moving.